Mastermove is a site about endgamecomposition. It also offers an interactive quiz.
Mastermove appears weekly.

Happy New Year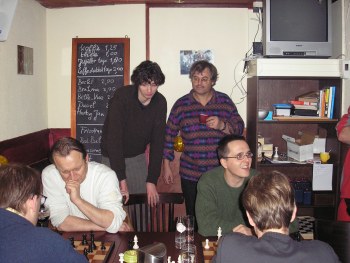 First of all I wish you all a happy new year with good compositions. Since a month I have been working hard in my new chesscafe: www.cafeatlantis.nl. That's the reason why Mastermove has been silent for a month or two. During the Harmonietournament of last Christmas there was a blitzshow in afe atlantis, which was won by IM Jan Werle. In the second round of the Corustournament he won a beautiful game of madam Atalik with a classical mate. In the database I found two studies with this mate. Have fun.

GUESS THE MOVE:
First click on the piece you want to play,
then click on the square you want to play it to.

Nadareishvili, G.
white wins
[2.hm Erevan Ty.]


Dudakov, M.
white wins
[Wolgogradska Pravda]